Importing photos from external camera
JustEZ provides tools to import photos taken from external camera or WIFI SD cards. This is very helpful in case you do not want to use your device's camera to take photos during site visit. With this feature in place you no need to pull SD card out of camera. Instead, app will connect to the camera and automatically import photos into appropriate inspections.
Once you start an inspection or after selecting a desired inspection,
>Tap on Ext Cam icon on Record section of the inspection screen.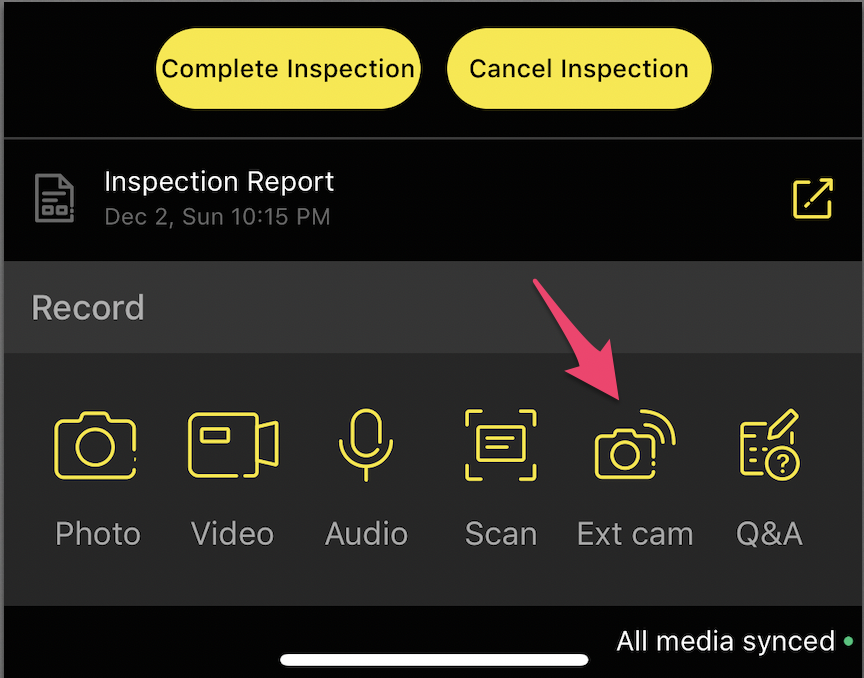 The screen will change to Record screen
Next to Connect button, you will see a Bluetooth icon that initially will look disabled. This means no camera is connected to your device. Tapping this will take you to device's Settings screen. Navigate to WIFI section of your device.

If you're using WIFI SD card or camera that has in-built WIFI you will see them in the WIFI list. Please ensure camera is on and WIFI SD card inserted
Tap on the camera WIFI access point name. You might want to take look at our supported devices section for more on how to connect device and camera
Once connected, app will automatically download images.
Note:
It is very important you do not switch OFF camera while photos are being downloaded. Our FAQ section explains about actions you could take in case camera switches off or intermittent connectivity issues.
Only those images will get synced which are clicked after starting the inspection. For example: you started the inspection at 1pm, so images that got clicked after 1pm, will get synced to JustEZ.
You can always highlight any specific section in the image and add annotations to it. Learn how to edit the photo and add annotations
---
---