Transfer recordings from one inspection to other
When you connect to external camera device, it syncs all the captured media to the inspection. Sometimes you might have taken photos of different inspections and they all get synced to one inspection. In that case, you can always transfer the photos/videos etc to another inspection. Here's how it works:
Select the photos or other recordings which you want to transfer.
Tap on Transfer Recordings icon . As soon as you click this icon, it will show you the other scheduled inspections for that day.

Now, there is option on the top left to either copy or move the media to other inspection.
If you want to copy the selected media to other inspection, Tap on Copy option and it will be copied.
If you want to move it, Tap on Move option and all the selected media will be moved to the other inspection.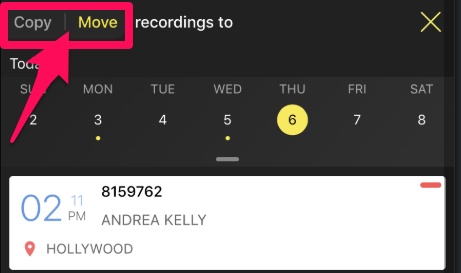 ---
---