Recording inspection details
JustEZ allows recording the investigation details with your phone or tablets. You can take photos, record videos or audios and scan documents as well. Also, we have the option to import photos from camera devices and they will automatically sync to the inspection in JustEZ. Here's how:
Take photos/videos:
Go to Scheduled screen and tap on any inspection.
Now, Tap the Start inspection button.
Tap the Photo icon under Record section to take photos.
You can also record videos/audios using Video or audio icon respectively and they will get saved under Recordings.

Note:

You can always highlight any specific section in the image and add annotations to it. Learn how to edit the photo and add annotations
Scanning invoices and documents:
You can also scan documents to add them to claims. Here's how:
Tap on the Scan icon under Record section.
Now, fit the document inside the screen and take a picture of it.
Hit Save and it will get saved under Recordings.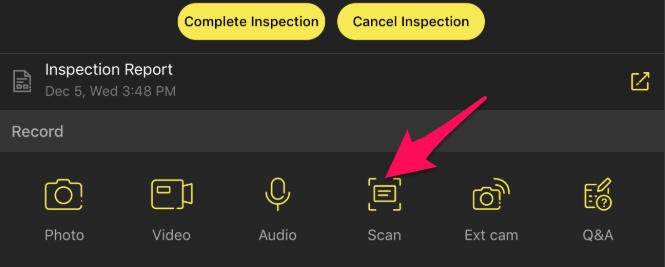 Using external camera: You can sync photos from your camera to JustEZ. We have integration with flashair card so if your camera supports flashair wi-fi SD cards, all the photos you've taken after starting the inspection will get synced to inspection itself.
Support external cameras - We support external cameras which have wi-fi connectivity such as flash air, wi-fi storage cards etc. It allows you to import all the captured media to JustEZ. Once it is imported, the inspection report based on your initial inspection will generate itself.
Importing images from external camera - Start with the inspection process by tapping the 'Start inspection' button. And if you use external camera devices for taking photos during the inspection, JustEZ automatically syncs all the photos that you've taken after starting the inspection. Learn how to import photos from external camera
Re-importing images - Any images that got clicked in last 24 hours and not synced to any claim yet. You can always reimport those images to the inspection. Learn how to reimport images
Answer the Checklist: We have a pre-defined set of questions that you ask during the inspection process. Now, you no longer need to take hand-written notes. You can answer those questions in app itself and they will accumulate in scoping reports.
Here's how it works:
Tap on Q&A icon under Record section.
A Q&A screen will open where you will find some pre-defined set of questions.
Answer those questions by choosing Yes or No.
Add any extra information wherever required.
Also, you get the option to add summary or Synopsis of loss in the end.
Hit the Cross icon to close Q&A screen. All your answers get saved automatically and be the part of final scoping report. You can find them under Observations section of scoping report.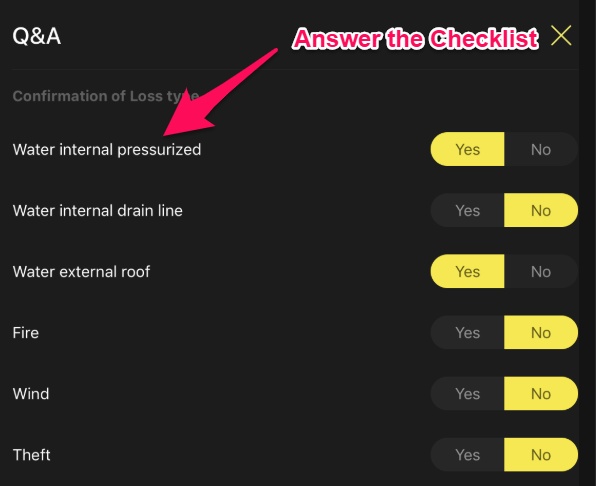 ---
---