Add Custom Line Items In JustEZ
JustEZ stores almost all line items that adjusters use while preparing estimates. But if there is any line item whose details are not going with what you need, you can always add a custom line item. JustEZ lets you add your custom line item.
Here's how you add custom line items in JustEZ:
Tap the "Add Custom Item" button available at the recommended line items listed screen.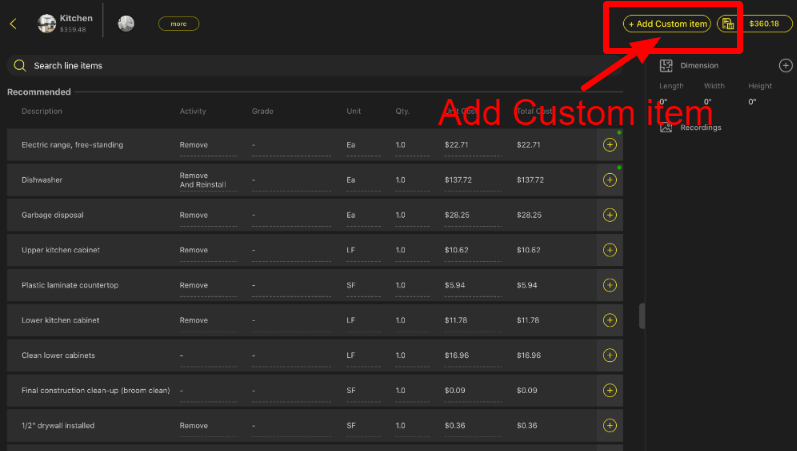 A pop-up will appear where you can add more details about the line item.
Tap the "Enter description" field to enter the description of the line item.
Tap "Select activity" field and choose an activity from all given activities.
Tap the "Enter grade" field to add the grade.
Select a unit from all given options and enter the quantity by tapping on their respective field.
Tap the "Enter unit cost" field to add the unit cost of the line item.
Once done adding all the information, tap "Add" from the top right and your line item will be added.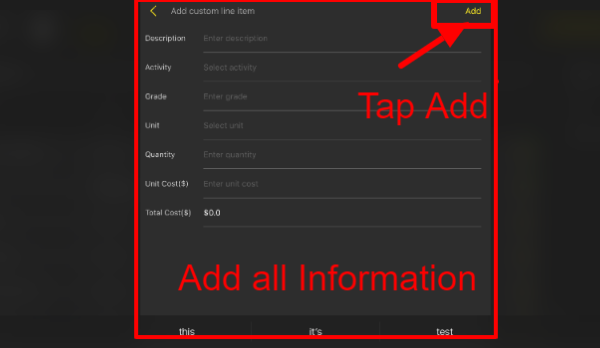 Note:
The total cost of the line item will be calculated based on unit cost and quantity entered by you.
Description, Unit, Quantity, and Unit Cost ($) fields are mandatory fields.
There will be no Unit material cost and no Unit labor cost in case of custom line items.
Still, need help? Email Us at support@justez.app
---
---